About Manor's website relaunch
The Manor Group is considered a retailer and a proven multispecialist in the retail sector. The Manor Group, Switzerland's largest department store group, includes 59 Manor department stores, 28 Manor Food supermarkets and 27 Manora restaurants. In total, Manor stocks over one million articles from around 2,800 suppliers from all over the world, including 700 local producers. Manor's headquarters are in Basel. Moreover, the wide range of products includes third-party and own brands in areas ranging from fashion, perfumery, toys and household goods to supermarkets. What is more, the online store includes 300,000 articles from the areas of fashion, beauty, sports, travel, watches, jewelry, toys, multimedia, home & household, wine, gifts and services. More information about Manor here: https://www.manor.ch/de/u/facts
The new website launch in May 2022, https://www.manor.ch/de, is expected to help increase the online share of sales fivefold by 2024, with Manor targeting an ambitious CHF 250 to 300 million in sales, roughly equivalent to 20% of total sales. Therefore, the consistent focus on digital is being expanded further and further to achieve this. More about our work with Manor: https://codeitlabs.com/manor/
Why SAP Commerce?
Manor's previous store was already running on an older version of SAP Commerce. However, this version reached its limits in terms of performance (including mobile first) and maintainability.
Why codeitlabs?
Manor chose us because they found a strong partner with excellent expertise in the SAP environment, especially in the SAP Commerce Framework. We support both new projects and day-to-day operations and support, and respond quickly and competently to changing requirements in a dynamic business environment.
Manor and codeitlabs
Technical points:
– headless approach (integration of SAP Commerce (OCC module))
– Introduction Middle Layer (GraphQL) with clear benefits of multiple client application that requires NO change on the OCC side.
– Integration with Amplience as a best of breed CMS system
– Integration with Algolia to fulfill the gaps of SOLR search engine missing gaps.
What is the added value for Manor and their customers with the new solution?
– More current SAP Commerce version as a basis for the development of further processes and functionalities, including improvements to the Marketplace processes
– Improved website performance through Responsive Web Design & Mobile First
– Optimization of the overview for end customers – increased attractiveness for new, loyal customers
– Enhancement of modern, secure and mobile payment methods (TWINT)
– Increase customer loyalty through loyalty programs with secure, integrated Manor Mastercard
– Gaining more customer data – linking between Manor and Manor Mastercard systems
– Increasing reliability and convenience for customers by introducing Click & Collect Express
Conclusion
In order to meet the current needs of customers, the Manor webshop offers an even wider online assortment through the expanded Marketplace. Other functions that support customer loyalty are essential for the Manor Group. These include headless web design, mobile first, separation of front-end and back-end, cross-device optimization, linking of Manor Mastercard with Manor systems, further optimization of customer processes, TWINT payment option, C&C Express solution, optimized order processing by external partners and other daily adjustments (e.g. discounts).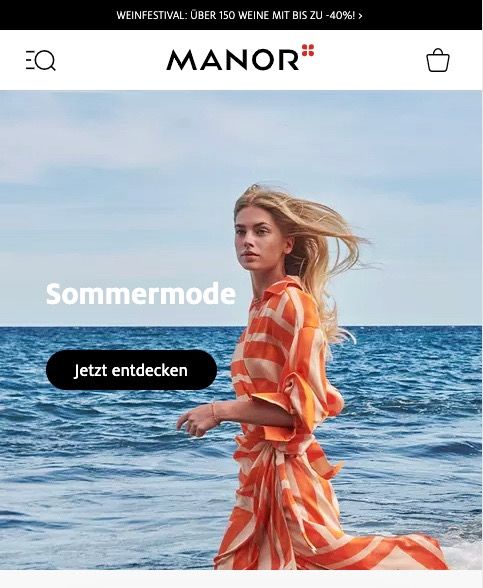 written by Despina Hatzigrigoriou