Akeneo:
PIM as a key component for your successful E-Commerce-Management
Akeneo:
PIM as a key component for your successful E-Commerce-Management
The world of e-commerce is dynamic and demanding. To be successful in this competitive environment, companies need efficient tools to manage and optimize their product information. This is where Product Information Management (PIM) systems like Akeneo come into play. Below we will provide a deeper insight into the importance of PIM systems in e-commerce and how Akeneo plays a crucial role in it. Maybe Akeneo PIM is the right choice for your e-commerce?
Understanding PIM (Product Information Management):
PIM systems are essential for e-commerce companies. They enable the central management of all product information required for smooth operation and effective customer communication. This includes, for example, product descriptions, images, prices, technical specifications and much more. With a PIM system like Akeneo, companies have the opportunity to store, manage and update this information centrally.
The
potential
of Akeneo PIM for E-Commerce
?
The
potential
of Akeneo PIM for E-Commerce
?
Akeneo is one of the leading PIM systems on the market. Akeneo offers a user-friendly platform that enables companies to efficiently organize and optimize product information for their e-commerce. With Akeneo, e-commerce companies can: Collect, centralize and harmonize product information to ensure consistent and accurate data. Update and manage product data efficiently, which is particularly advantageous for large product catalogs. Reduce time-to-market as products can be introduced and updated more quickly. Serve multiple sales channels and increase customer satisfaction.
Integration of Akeneo into E-Commerce platforms:
Akeneo can be seamlessly integrated into existing e-commerce platforms, enabling the synchronization of product information between PIM and online shops. This ensures that customers always have access to current and accurate information. Akeneo's integration with e-commerce platforms also offers advanced features such as personalized product recommendations and improved search functionality.
The advantages of Akeneo for enterprises in detail: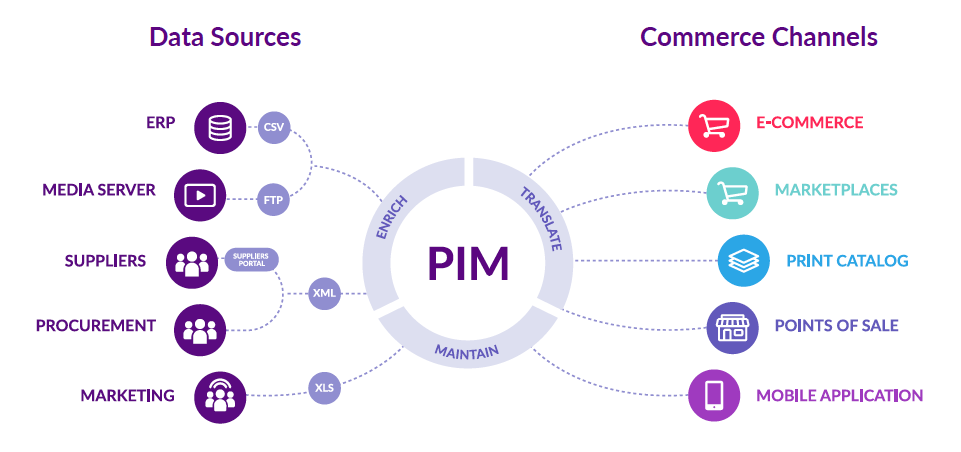 Case studies and success stories:
To illustrate the effectiveness of Akeneo's PIM in e-commerce, we take a look at our reference customer, an established player in the pleasure industry from Basel. This company chose an innovative combination of the SAP Commerce Cloud and the PIM system Akeneo to optimize its product management and sales. By integrating these two powerful solutions, our client was able to seamlessly manage their product information while significantly improving the user experience for their customers. This success illustrates how integrating Akeneo's PIM with the SAP Commerce Cloud can help gain a competitive advantage and maximize the customer experience.
Conclusion:
PIM systems are essential tools for e-commerce companies that want to succeed in a competitive market. Centrally managing product information in Akeneo, increasing efficiency and improving customer experience are just some of the benefits these systems offer. Companies should consider how Akeneo can be integrated into their eCommerce strategy to increase their success. If you would like to find out more about the functions of Akeneo, we would be happy to speak to you personally! We are also happy to be your contact for general questions about e-commerce and further solutions.